BOWEN YANG MAKES SATURDAY NIGHT LIVE WRITER

Brooklyn-based Bowen Yang, a regular on our stage, joins SNL's writing team!
Three Busy Debras Featured in NY mag - A Fashion Improvisation With Three Busy Debras

Regular BCC performers, Three Busy Debras, merge their signature comedy with fashion in this NY mag article.
The TCGS Exit Interview: A Chat Between Chris Gethard and Brett Davis
Chris Gethard, a friend of the BCC and occasional featured act, opens up about the ending of his decade-long, The Chris Gethard Show. He discusses his journey and cites many regular BCC performers. A great read!
"Ladies who ranch" featured in time out NYC
Ladies Who Ranch, a Brooklyn Comedy Collective staple, was featured in a Time Out article titled "The best comedy shows by women in NYC".
"It's a wonderful Everything" featured in Bedford & Bowery
1950's satirical sketch revue is chosen for a show roundup! Indulge in some brief escapism here.
"TV Dinner" Recommended by The New York Times
The Brooklyn Comedy Collective has a unique mission to compensate its performers. This Paste Magazine article lists the BCC with five other theaters that lead with a philosophy to pay performers.
TV Dinner's Ana fabrega and Julio Torres star in Spanish-language HBO series
HBO has greenlit a Spanish language comedy titled "Los Espookys" and it comes from Saturday Night Live's own Fred Armisen, and Lorne Michaels. The show will star regular BCC performers Ana Fabrega and Julio Torres.
Frequent BCC performers book pilot
Amazing news from frequent BCC performers Mitra Jouhari, Alyssa Stonoha, and Sandy Honig booking this pilot!
Frequent performer Carmen christopher on the chris gethard show
Check out this feature on Carmen Christopher on The Chris Gethard Show. You can see Carmen onstage most Thursday nights at the BCC in TV DINNER.
Sister Theaters/Schools WITH THE CCB
We are thrilled to announce that we are becoming sister schools/theaters with our friends over at Comedy Cafe Berlin (CCB). After teaching and performing abroad with the CCB many times, Philip Markle and Annie Donley and CCB's Artistic Director Noah Telson decided make the partnership official. Our mission is to exchange ideas, showcase talent, and provide opportunities for members within our communities to travel and experience not only improv and comedy, but life in our respective cities/countries. Both BCC and CCB share a drive to create an open, safe and welcoming environment for improv; one that champions the exchange of ideas and breaks down borders and boundaries of countries and dogmas. To that end we are offering:

Workshops: Each theater will offer intensives/workshops taught by top instructors from their sister theater periodically throughout the year. These workshops will feature the unique approach of their theater's ethos to comedy and improv.

Showcases: Each theater will host select shows from their sister theater periodically throughout the year. These teams will showcase their theater's style of play while also immersing themselves in the culture and lifestyle of the other city.

Upcoming Timeline:
May 12-13, 2018: BCC Artistic Director Philip Markle teaching a musical improv intensive workshop in Berlin.

June 23-24, 2018: CCB Artistic Director Noah Telson and CCB house team members to perform and teach workshops at BCC in New York.

June 25-28, 2018: BCC offering a summer intensive for CCB members and the public culminating in a show on June 28th at BCC.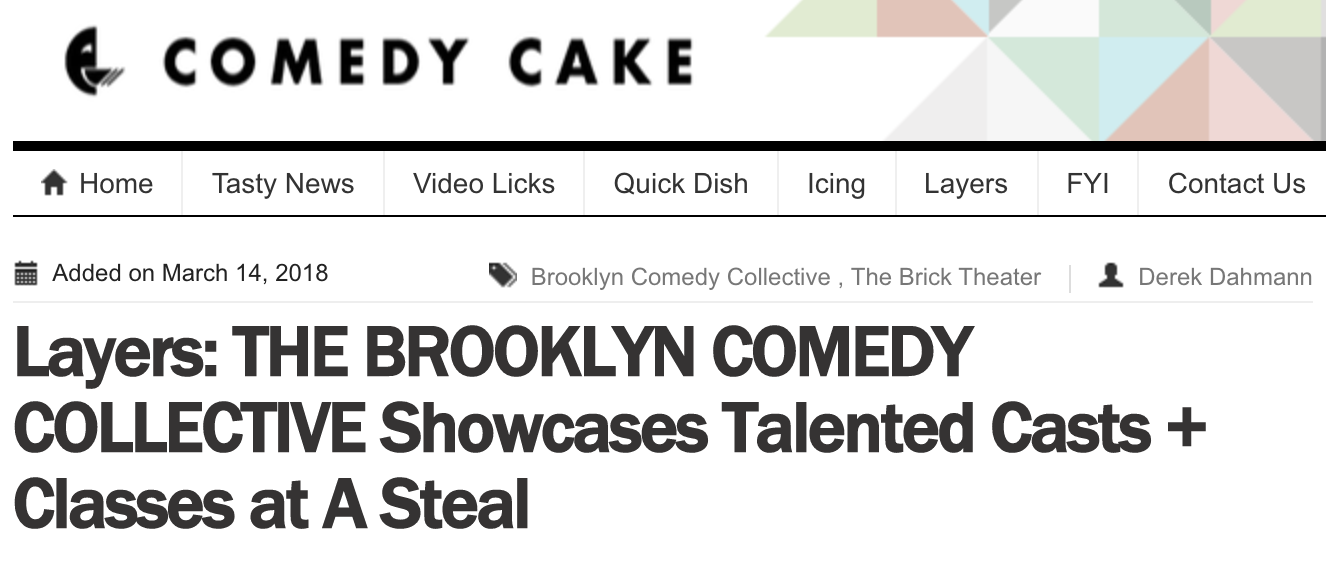 "The BCC's performers seem to be doing quite well for themselves. Even a cursory scan of the BCC calendar reveals a bevy of top comedic talent: Chris Gethard (The Chris Gethard Show), John Reynolds (Stranger Things, Search Party), Gary Richardson (SNL), all jump to mind, along with many, many others. The hilarious show I was able to view, TV DINNER (fans may remember its predecessor The Holy Fuck Comedy Hour) displayed a unique sketch style akin to the hybrid improv/sketch approach popularized by Curb Your Enthusiasm..."
Article in Brooklyn Vegan
One of the brightest new additions to the New York comedy scene has been the Brooklyn Comedy Collective, which currently hosts shows at The Brick Theatre in Williamsburg.